Welcome to RevLane
RevLane has a unique auto listing method that unfolds the story of every vehicle and involves professionals to assist with advice and estimate quotes along the way, so buyers get the whole picture of the car and the total cost of getting it to their standard.
RevLane Listings Stand Out:
Every listing is an opportunity to showcase your vehicle.
All listings run until they are sold – for an unlimited amount of time.
Every listing has its own forum for discussions with buyers and the seller as well as professional restorers and shippers that not only can provide advice but also work estimates. Through this process you can have a shipper or restorer lined up to do the work as soon as the car is purchased.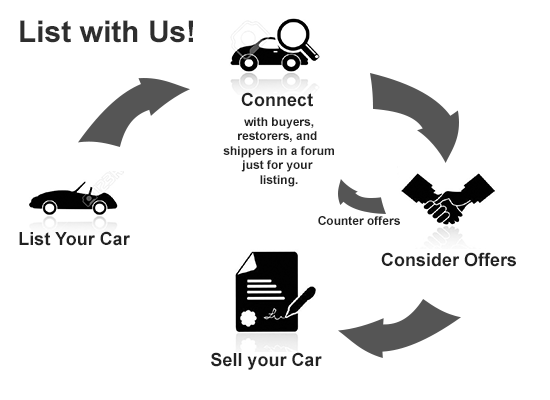 Listings come with resources: Every listing has a forum geared towards exposing as much information about the car or motorcycle as possible. This is where members and vendors and of course the seller can post their questions, comments and replies about the vehicle. Every listing is a conversation.
Possibilities Listings: Not ready to sell your car but thinking about it. Perhaps you're wondering what it's worth. A possibilities listing allows you to showcase your car for free and discuss it in the listings forum while being able to receive offers. If the right offer were to come along, simply upgrade to a regular RevLane listing to accept it. But only when you are ready.
If you're interested in a particular listing, you have the capability to search for vendors (except with Possibilities Listings) and make direct offers to the seller right from the listing page and start the negotiating process. There is no maximum number of back-and-forth offers, which allows for a real life negotiation process. A comment field is also included with every offer submission, so sellers and buyers can communicate effectively.
RevLane is not just a listing site. It also has a network of vendors for restoration and shipping. Got a question about a listing or need a price quote for a restoration or shipping on a vehicle? Reach out to the vendors in the corresponding geographical area for a quote or a consultation. The point is that you not only have the professionals that you can ask for opinions, but you get the opportunity to correspond with vendors about a specific vehicle and get a quote for the work needed. So you go into the purchase with the total cost in mind and you have the opportunity to get multiple opinions.
Vendors directory is easy to search from the site if you don't have a particular listing in mind, just click Find a Restorer or Transporter links from the top center menu on any RevLane page.